The Alberta Railway Museum is a great place to have your wedding with the first one being held in 1980.  The museum can accommodate up to 30 guests for your special occasion. If the weather is unfavourable, the wedding can be held in the Fort Brabant train car. 
Or if you just want to come out and get your wedding photos taken with some historic locomotives or train cars, these backdrops are available for you too.  The museum can accommodate up to 30 individuals for your photo shoot.
(Note: No alcohol is permitted on the grounds.)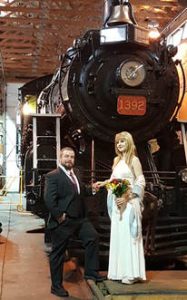 Family pictures taken at the Museum are also popular. Every occasion has been captured from Christmas card photos to a special request in honour of a family member.
All you have to do is supply the photographer.
The museum is only open on summer weekends from the May long weekend to the September long weekend.
To register, please fill out the form under Groups and select wedding or group photos.
Cost: Prices vary depending on size of group and the event.